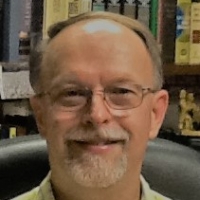 Rejoicing in Another Man's Light
by Pastor E. Keith Hassell | October 1, 2018
John 5:35 (NKJV) "He was the burning and shining lamp, and you were willing for a time to rejoice in his light."
John the Baptist was sent by God. He was sent to prepare the way for the Messiah. He was "the voice of one crying in the wilderness: 'Prepare the way of the Lord.'" He came to cast down pride, lift up the oppressed, straighten crooked hearts, and remove what was offensive to God. He came to expose darkness by revealing the Light of the World. He foretold that One was coming after him, Jesus Christ, the Son of God. John was a man with a purpose and he was faithful to that purpose.
John made a powerful impact upon his generation in a short amount of time. His ministry was so influential that the Scripture says,
"Then Jerusalem, all Judea, and all the region around the Jordan went out to him."[1]
Many considered him to be a prophet, including Jesus. Jesus said of John,
"Assuredly, I say to you, among those born of women there has not risen one greater than John the Baptist."[2]
One day Jesus came to be baptized by John. Upon His baptism, the heavens opened, the Holy Spirit like a dove descended upon Him, and the voice of His Father declared from heaven,
"This is My beloved Son, in whom I am well pleased."[3]
This baptism inaugurated the public ministry of Jesus. In time, more people followed Jesus rather than John. John's enemies observed this and said,
"Rabbi, He who was with you beyond the Jordan, to whom you have testified—behold, He is baptizing, and all are coming to Him!"[4]
John was not insecure. He was not threatened by Jesus' expanding ministry. He was not bothered by Jesus' increasing influence. He was not worried about his shrinking crowds. He responded,
"A man can receive nothing unless it has been given to him from heaven.[5]"
He knew that no one could take from him what God had given. He rested in God's sovereign control. He was secure in his role as a servant to prepare the way for Jesus. He had fulfilled his assignment and was ready to turn the spotlight on the One for whom the way had been prepared. John came into human history for an appointed season. His chapter in history was ending and a new chapter was beginning. It was time for the spotlight to shift to Jesus:
"He must increase, but I must decrease."[6]
There is no competition in God's kingdom. We must learn to rejoice in the God who sent us as we also rejoice in the ministry of others that God is sending. We must not be threatened by those whose ministry and influence exceeds our own. To do otherwise is to question and challenge the One who sends.
God wants us to be secure in the ministry and influence that He has given us. We must be willing to gracefully "bow out" when our season in the spotlight is ending. We must learn to rejoice in the ministries and influences that God has given others. We must thank God for allowing us to prepare the way for others that He is sending. There is no competition in God's kingdom. Each receives only what he has been given. As we rejoice in the light that God has given to us, let us also learn to rejoice in the light that has been given to another.
"Heavenly Father, thank You for what You have given me. Help me to remember that I received it from You. Help me to rejoice in what You have given to me and then to rejoice in what You are giving to others. I pray this in the name of the Lord Jesus Christ. Amen."
---